YOUR FACE!

This article is a joke! It is made just for the fun of it. Please do not take this article seriously, unless the owner does.
Warning! This page was made by Hyperealistic Gaben, AKA Robot Krabs.

The page you are about to read is made by Hyperealistic Gaben. Please ask permission if you wanna edit, or else I will use my heat vision on you.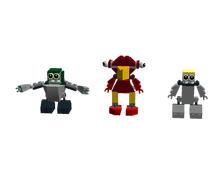 The fetish corp are an OC tribe based on Fetishes they live in deviantart
Tribes
Thedrksiren
Thedrksiren is the leader of the fetish corp she makes people pregnant with her fetish powers she based on all fetishes
Muscle Man
Muscle man is a girl with a boy voice she likes mom jokes and she is based on strong girls fetish
Vampire Miley Cyrus
Vampire miley cyrus is a vampire she has the ability to make people vampires with her wrecking ball she is base on vampire fetish
Trivia
Their max looks like the glorp corp max
Thedrksiren lives in bowsers castle but with more yaoi
Ad blocker interference detected!
Wikia is a free-to-use site that makes money from advertising. We have a modified experience for viewers using ad blockers

Wikia is not accessible if you've made further modifications. Remove the custom ad blocker rule(s) and the page will load as expected.