Warning! This page was made by Hyperealistic Gaben, AKA Robot Krabs.

The page you are about to read is made by Hyperealistic Gaben. Please ask permission if you wanna edit, or else I will use my heat vision on you.
Warning! This Page Is Hiveineers Territory!

The page you are about to read is about the honey-making Hiveineers!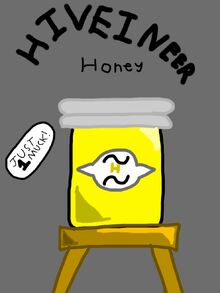 The Hiveinerr Honey is a product that the Hiveineers make. It is mainly a jar of honey.
Appearance
The Hiveineer Honey has the main looks of a jar. It has a logo with two squiggles on top and bottom of a darkish yellow H, which stands for Hiveineer, which is all on a white circle with two points on both side.
Background
WIP
Trivia
It's cost is only one Muck.
It is the first food to have a secret ingredient, which is (DON'T YOU DARE SHOW IT IN PUBLIC) Plowers.
Ad blocker interference detected!
Wikia is a free-to-use site that makes money from advertising. We have a modified experience for viewers using ad blockers

Wikia is not accessible if you've made further modifications. Remove the custom ad blocker rule(s) and the page will load as expected.