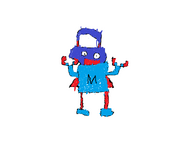 the magnetors quest leader super hero of pieces 20 [magnetors] [flying magnet powers] memboral quotes
you'll get to play with the cubit
lets mix it to fix it 
YEEES!

TRIVIA he is the only member with a cape
Just like the other mixels, he also hates nixels
he first activated his magnet powers when he was 6

early life he saved his mother from a bear when he was 6 first activating his magnet powers
first adventure he and the other magnetors go back in time to save mixmas from major nixel
latest adventure saving mixel mountain from nixels
PERSONALITY his personality is similar to flain and niksputs
VOICE ACTOR he has berps voice actor
Ad blocker interference detected!
Wikia is a free-to-use site that makes money from advertising. We have a modified experience for viewers using ad blockers

Wikia is not accessible if you've made further modifications. Remove the custom ad blocker rule(s) and the page will load as expected.