Warning! This page was made by Hyperealistic Gaben, AKA Robot Krabs.

The page you are about to read is made by Hyperealistic Gaben. Please ask permission if you wanna edit, or else I will use my heat vision on you.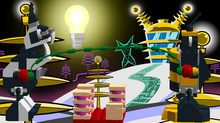 Strawcherries are a type of natural food in the Mixels land.They were first seen in LEGO® Mixels - Hairpire And Honeydew Murp!
Appearance
In the cartoon form, Strawcherries have a strawberry's seeds on a cherry, and the pointed stem of a cherry coming out of a strawberry's leaves. The LEGO form uses Minifigure heads and a flexible chain piece.
Background
LEGO® Mixels - Hairpire And Honeydew Murp!
Honeydew and Hairpire are seen having a picnic at Mountain City, until Honeydew and Hairpire both grab a connected Strawcherry by accident. They try pulling the stem to seperate the two Strawcherries, but they end up failing. Honeydew grabs a Cubit from the picnic basket, and they suddenly Murp. The Murp then runs uncontrollably, and runs up an electric tree by spurting a vine of honey to the top. Hoogi then appears and breaks the stem, and then they unmix. The electric tree falls down onto Hoogi, which crushes him.
Trivia
They may be the most frustrating food so far.
Ad blocker interference detected!
Wikia is a free-to-use site that makes money from advertising. We have a modified experience for viewers using ad blockers

Wikia is not accessible if you've made further modifications. Remove the custom ad blocker rule(s) and the page will load as expected.