They are mixels that are based on the element called earth.
They are brownish red and grey in color.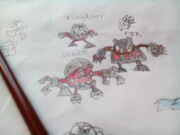 Members
rox :he is the rocky leader that can summon boulders
sienick :he is brave strong but has no speed 
claydour :he may be short witted but has the power to turn into a boulder
Relationship​
Infernites: neutral
Cragsters: they like playing mixel ball together and also mixing.
Electroids:they always do liked the electroids annual dance parties.
Series 2:neutral
Glorp corp: neutral
Spikels: they play with each other because the cavelings have a rocky armor
Wiztastics:their shows are very funny to the cavelings
Home
Trivia
They live near the elecrtiods
They can mix with the cragsters,spikel and wiztastics
They all are slow
Ad blocker interference detected!
Wikia is a free-to-use site that makes money from advertising. We have a modified experience for viewers using ad blockers

Wikia is not accessible if you've made further modifications. Remove the custom ad blocker rule(s) and the page will load as expected.