plot
Sharx lost his hat and he is going on a long voyage! Could he find his hat before the journey?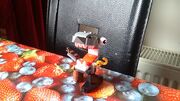 transcript 
Sharx: Arr this be a fine day for travelling with me crew...
          ...ARGHHH, where is my hat?!
Lewt and skullzy: Captain! We heard your scream, what is the problem?
Sharx: It be this.
(Walks out of curtain)
Lewt and skullzy:(laughs heavily ) you look hillarious captain!
Sharx: BE QUIET BEFORE I FEED YOU  TO THE SHARKFIN!
(the two pirates be quiet)
Lewt: well I saw your hat under your bed.
Sharx: thanks lewt. Now who is ready for a voyage!?
Lewt and skullzy: lets go!
All: MAX!
(Episode ends here).
trivia
The Max was a pirate's ship
Sharx has an eye patch so he can't see properly
Lewt is the only pirate to not have an eye patch, that's why he found the hat.
Ad blocker interference detected!
Wikia is a free-to-use site that makes money from advertising. We have a modified experience for viewers using ad blockers

Wikia is not accessible if you've made further modifications. Remove the custom ad blocker rule(s) and the page will load as expected.